443 Bar Lounge in Bukit Bintang
A sanctuary of fine wine, top-shelf cigars, premium liquors and artisanal cocktails.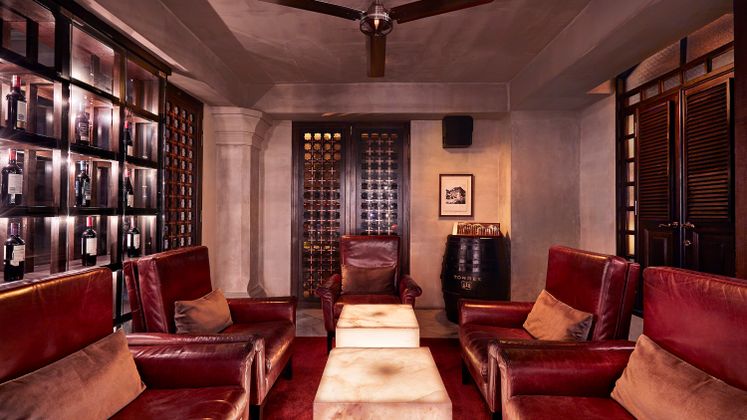 Located in the heart of vivacious Bukit Bintang, the once prominent Qba Bar & Grill is now rebranded to 443 Bar Lounge. 443 signifies the number of rooms at The Westin Kuala Lumpur, denoting the attention given to each individual guest. Being a seductive and charming bar lounge in KL, 443 is also the number of glory stories the bartenders can share and reminisce about.
Rich in history, ever nostalgic and classic, the rebranded bar lounge oozes passion and warmth in every element of its being – from the rustic interior to each glass of specially-crafted beverage.
Extensive Selection of Beverages & an Array of Top-Shelf Cigar
443 Bar Lounge is an ideal place for some remarkable cocktail concoctions and top-notch liquors at an elevated experience. Guests can enjoy the outlet's signature beverages – Salt & Sour, a refreshing citrus cocktail; or Ginger Meggs, a rich herb-flavored and masculine cocktail. Other 'bartenders' favorites' at 443 are the much celebrated Mojitos, Caipirinhas, Margaritas and Long Island Tea that represent classical cocktail beverages served with an innovative twist.

A range of quality malt whiskies and premium scotches are available for total relaxation after-hours. Call it a day and sip on a glass of the rich and complex flavored Hennessy XO; a serving of exquisite Johnnie Walker Blue Label neat, with iced water on the side; or a shot of sensational The Macallan 18 Years Single Malt Scotch Whisky.

Patrons will also be spoilt for choice as 443 is the place to be at for the bar's extensive selection of boutique wines – Spanish or South American – and other wines from around the world, many of which are featured by the glass at the bar.

For those who need to end the day with a cigar or two, the array of top-shelf Habano cigars will impress any cigar lover. Pair it with a glass of Irish whiskey or premium cognac to complement the evening.

Relax and unwind at the nostalgic 443 Bar Lounge, a hide-away sanctuary in the heart of the city. Reinvigorate with artisanal cocktails, premium liquors, thirst-quenching beers and fine wine after-hours. Join us daily during our Cocktail Hours from 5.00pm to 7.00pm and enjoy seductive 50% discount on selected beverages.
Charming Architecture & Interior
The design elements and focal point of 443 Bar Lounge is inarguably the charming Havana architecture. The fixtures and fittings provide a distinguished surrounding and artistic environment, countered by the vintage furniture; the timber barstools are elegant, yet modest. Even the leather upholstery on the chairs is reminiscent of the interiors of the classic cars that cruise around Cuba's streets.
Emphasized by low key lighting, the ambience in 443 Bar Lounge presents a unique setting for a perfect night out. Diffused by the use of "cube-like" marble light boxes and some other light boxes in smaller versions, the surrounding area is ignited with strings of cubic crystals cascading down the walls and ceiling of 443.
Handcrafted Cocktails
Revive with an artisanal elixir from the Crafted at Westin menu, a fresh selection of expertly mixed cocktails infused with natural ingredients and local flavors.
KANGSAR INFLUENCE RM38
A refreshing blend of cranberry juice, dried sour plum (Asam Boi), vodka and a whisper of chia seed.

MANGOSTANA RM38
An innovative mix of muddled blueberries, ginger, dried sour plum (Asam Boi) and mangosteen with fresh orange juice and gin.

CINNARUM RM38
A rich yet rejuvenating mix of cinnamon liquid, sweet 'n sour, triple sec and dark rum.

TAPI RUM RM38
A dark rum based cocktail accompanied with house made coconut cream, fresh milk, fermented tapioca flakes and muddled strawberries.

Basic Member of Rewards Program / Preferred Guest of SPG Program - 10% F&B Discount
Silver Member of Rewards Program / Preferred Guest Plus of SPG Program - 10% F&B Discount
Gold Member of Rewards & SPG Program - 15% F&B Discount
Platinum Member of Rewards & SPG Program - 20% F&B Discount
Find out more about SPG and join today for a complimentary membership!
Reach Us
Location: Level Lower Lobby
Hours of Operation:
443 Bar Lounge
5:00pm to 12:00am daily
443 Cocktail Hours
5.00pm to 7:00pm daily
Phone: 603 2773 8338
Email: westindining@westin.com
Parking Fee
Guests who dine at any of our restaurants enjoy flat rate of MYR12 nett per entry per vehicle:
Receipt must be presented to receive flat rate for parking
Discover more dining offers.